Mechanic in Williston, ND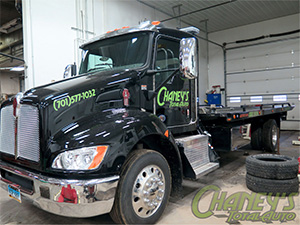 Far and above just being the best auto mechanic in Williston, ND, Chaney Total Auto & Exhaust Repair is here to provide you with a range of top-quality services! We're focused on auto repair, sign printing, towing and hobbyist RC cars, offering nothing short of the very best products and services across each of these areas. Stop on by our location and see for yourself!
Your Trusted Muffler & Brake Shop
At Chaney Total Auto & Exhaust Repair, you're going to find nothing but the very best in automotive services for your vehicle, including towing to our location… but that's not all you'll find here! We're your destination muffler and brake shop for a variety of services and products—everything from signs and fabrication to parts and supplies for RC enthusiasts! And, because we're experts in all of these things, we've brought them together under one roof for all of our customers—stop by for repair, towing, signage or RC vehicle supplies and you'll find yourself dealing with the friendly faces that have made our business successful for more than 30 years.
Aside from being part hobby shop, part mechanic serving Williston, Trenton, Springbrook, Alexander, and Marmon, ND, we're 100% dedicated to helping our customers at Chaney Total Auto & Exhaust Repair. We go out of our way to make sure you're getting the services you need, at a fair price and a level of quality that's far beyond your expectations. Whether we're hauling in your broken down auto from 100-miles out or we're helping you find the last piece to a fantastic RC build you're putting the finishing touches on, we take pride in being able to satisfy your needs, big or small. Take a look at just a few more reasons people have continued to contact us for more than three decades:
We are Hunter alignment certified and expert alignment specialists!
We're pleased to be a member of our local Chamber of Commerce.
We're proud members of the North Dakota Towing Association (NDTA).
We're a proud family-owned and –operated mechanic.
We have more than 35 years of experience as a muffler and brake shop behind us!