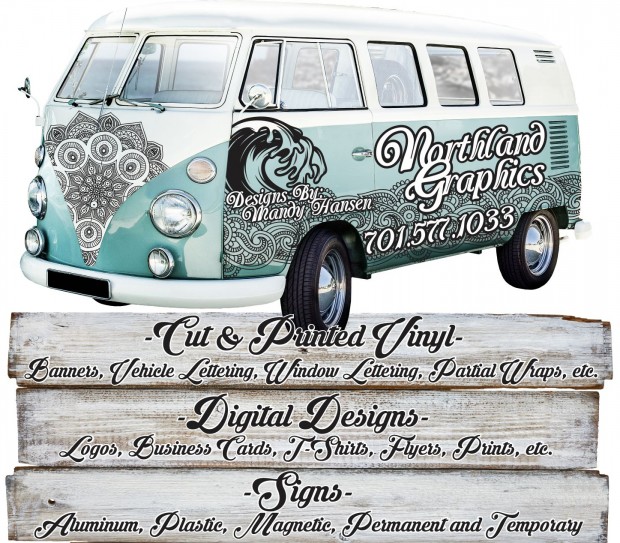 A sign can say a lot—especially one that's attention-grabbing, exciting, and well-crafted for its intended purpose. If you plan on advertising for your business, an event, an organization or something else that's important to you, let Northland Graphics — our sister company here at Chaney Total Auto & Exhaust Repair — be there to assist you in creating a design that's absolutely perfect for your needs.

Expertly Crafted Signage
At Northland Graphics, we're your local experts when it comes to all types of sign printing in Williston, Trenton, Springbrook, Alexander, and Marmon, ND. From simple vinyl signs that you can use outdoors to comprehensive banners and larger signage that will make a huge impression on all those who view it, we're happy to work with you to bring your signage vision to life. What's more, we're here to assist you in every facet of the signage-making process, from the conception and design of a sign, to the creation and fabrication of the finished product!
No matter what you need for custom signs in Williston, ND, know that we're here to create a beautiful, effective finished product for you that you can proudly display to great effect. Our goal is more than to just make you a sign and send you on your way—it's to become your first choice for custom signage anytime the occasion calls for it. We're even happy to become your business marketing partner, supplying quality signage materials for prices that are in line with your business' budget!
For more information about our capabilities as it applies to signage in Williston, ND or to consult with Mandy about your ideas and needs for a unique piece of advertising material, please don't hesitate to contact us today by calling 701-577-1033 or emailing us at [email protected]. We look forward to speaking with you about your custom signage, auto repair, towing, or RC car needs!