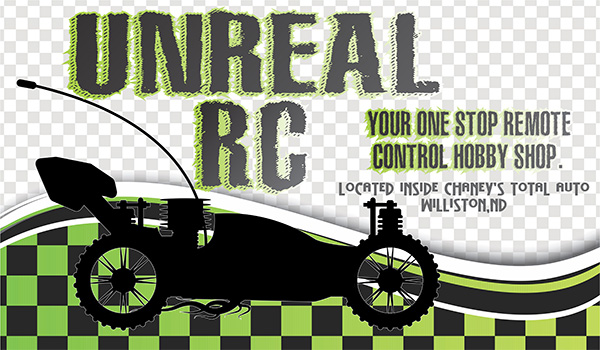 The world of remote control vehicles is a vast one and, as any hobbyist knows, full of exciting opportunities to build something that's truly unique to you. Whether you're a newcomer to the world of RC cars in Williston, Trenton, Springbrook, Alexander, or Marmon, ND or you're a seasoned builder who's into tinkering and modifying beyond just a stock kit, Chaney Total Auto & Exhaust Repair is pleased to offer a vast selection of products to you!
Your Complete RC Hobby Shop
At Chaney Total Auto & Exhaust Repair, we know all the intricate details of radio-controlled, die-cast and plastic model vehicles, and we're happy to consult with you about your preferences in each or what you might be looking for in terms of your next project. We have a depth of basic and beginner model options, and we also cater to experts with radio-controlled models that range in speed, with capacities anywhere from 35 to 100 miles per gallon. Now that's high-speed fun!
Take a look at just some of the products we carry as part of our hobby shop in Williston, ND and what you might find if you're an RC car enthusiast:
Kits: From the simplest starter kits to advanced options, we're pleased to provide an array of RC models, from a variety of different brands. Our shelves are constantly stocked with the newest and best options, as well as tried and true popular models. Stop on by today to see for yourself what we have to offer at our hobby shop in Williston, ND!
Components: As any enthusiast can tell you, half the fun of RC cars in Williston, ND is tinkering and modifying them to make a model that's something of your own design! At Chaney Total Auto & Exhaust Repair, we have a myriad of parts and components that you can browse through to make your RC vehicle complete, whether you're replacing a broken component or adding your own flair to an existing model.
Books and literature: Whether it's concepts you're after or step-by-step instructions, we have a number of great books on RC models. We're happy to point you in the right direction if you're looking for information and can even recommend literature if you're new to the hobby.
If you're looking for something in particular or have questions for an expert, come on down and ask one of our knowledgeable employees today! We're pleased to be versed in all of the products we sell and can give you a rundown of exactly what you want to know. For more information or to inquire about specifics on our hobby shop, auto repairs, towing, or custom signs, please contact us at 701-577-6574.